Newsletter-Term 1-Week 6- Friday 10th March
Principal's News...
Dear Parents,
It's hard to believe we are past the half way mark this term. I feel we have been blessed with a relatively calm, yet eventful start to the year and look forward to a continuation of this over the next 5 years or so (wishing for a drama-less time for many years ahead).

We commenced our Confirmation program this week with a packed house up in our Year 3 classrooms on Tuesday night. As the final Initiation Sacrament in our faith journey, this Blessed Sacrament will hold a particularly special place in our children's life experiences as they develop a deeper understanding of how the Spirit is in us and works through us. I still have a vivid memory of making my Confirmation in 1987. I congratulate our 2023 candidates and their parents on their courage to express their faith so proudly and prominently (which can be difficult in our secular world today) and I look forward to sharing in the celebration with them as they receive the Blessed Sacrament on Thursday evening 30th March. In the meantime, let's keep these children and their families in our prayers.
We will be holding our annual Parent-Student-Teacher conferences in Week 8. A booking schedule will be shared with you via Compass on Wednesday, 15th March. Please ensure you take the time to book in and meet with your class teachers during this time to best understand how your children are travelling so far this year, to celebrate their successes with them and to help them set clear goals to work towards. Their success will be greater with our combined support.
Next week our students in Years 3 and 5 will participate in the NAPLAN tests that will provide us with specific data about their abilities in Literacy and Numeracy. We will analyse this data in various ways to ascertain...
A: each student's individual growth in all areas assessed from Year 3 to Year 5

B: strengths and areas for improvement for each student

C: strengths and areas for improvement as a school

D: all of the above



Please see attached information about this assessment at the back of the newsletter.
I have been in a conference this week with Bishop Greg, all other Principals, Catholic Education staff and our Diocesan Priests. I look forward to sharing points of discussion with you shortly as we work towards strengthening our Parish School to better provide an environment in which all members of our community understand Jesus's mission of ensuring we "may have life and have it to the full. " Jn 10:10
Peace in Christ
Dan Gubby
School Calendar-Term 1
| | | |
| --- | --- | --- |
| Week 7 | Wednesday, 15th March | NAPLAN-Year 3 & 5 |
| | Thursday, 16th March | NAPLAN-Year 3 & 5 |
| | Friday, 17th March | NAPLAN-Year 3 & 5 |
| Week 8 | Thursday, 23rd March | Whole School Mass- 2:30pm |
| | Friday, 24th March | Whole School Assembly-2:30pm-Year 3 Prayer |
| | | Police Youth Liaison Visit - Year 6 (9am) Year 5 (10am) |
| Week 9 | Monday, 27th March | School Cross Country |
| | Tuesday, 28th March | Wildfire Performance-K-6 |
| | Thursday, 30th March | Confirmation Retreat Day |
| | | Sacrament of Confirmation Year 3 |
| | Wednesday, 5th April | Kinder 2023 Afternoon Tea |
| Week 10 | Thursday, 6th April | Holy Week Liturgy - 10:15am to 11am |
| | | Last Day Term 1 |
| | Friday, 7th April | Good Friday |
Assistant Principal Mission News...
Confirmation Family Session
This week we held the first of our Family Sessions for the Sacrament of Confirmation. Families participated in a variety of activities as the Confirmation candidates began their preparations for the Sacrament.
The second Family Session will take place on Tuesday, 21 March 5:30-6:30pm in the Yr 3 classroom.
The Sacrament of Confirmation will be held on Thursday, 30 March beginning at 5:30pm in the Church with the Bishop speaking with the candidates before the service.
Third Sunday of Lent
This Sunday is the Third Sunday in Lent. Over the next few Sundays, we return to the Gospel of John where we see Jesus' encounter with the Samaritan woman. Jesus uses this encounter to teach his disciples that God's mercy is without limit and that we are all loved no matter our faults or weaknesses.
Project Compassion
We are now in the third week of Lent with the Project Compassion story of Priscilla, who lives in the Hwange district in Zimbabwe with her husband, Charles, and two of their grandchildren. During times of intense drought and food shortages, Priscilla had to commute to the town centre and wait in long queues to collect food.
With the support of Caritas Hwange, Priscilla learnt conservation farming skills to grow drought-resistant crops and started poultry farming to support her family during the current food crisis. Priscilla was able to produce a bumper harvest in her first year of practising in conservation farming. Priscilla also used the funds from her harvest to start poultry farming, which enabled her to sell eggs to pay for her grandchildren's school fees, books and stationery. The poultry farming provides a safety net for Priscilla and her family during times of hardship, like the current drought.
While the situation in Zimbabwe and across eastern Africa remains dire, the work of Caritas Hwange means that Priscilla can learn the techniques, tools and resources she needs to build resilience and support her family during this current food crisis.
https://www.caritas.org.au/project-compassion/priscilla-story/
Photo:Richard Wainwright/Caritas Australia
Whole School Mass
Our next whole school Mass will take place on Thursday, 23 March at 2:30pm in the Church. All are welcome to join us for this Mass.
Altar Servers
A note from the Parish was sent home via Compass last week to Students in Years 4, 5 and 6 who wish to be an Altar Server at weekend Parish Masses. Students must have completed the Sacrament of Holy Communion to be eligible to be an Altar Server.
If you did not receive the note and your child would like to be an Altar Server, please contact Kasey (kasey.miles@lism.catholic.edu.au) for more information.
Holy Week
Week 10 of this term is Holy Week. Holy Week begins with Palm Sunday (Sunday 2 April).
As a school we will be sharing in a Holy Week Liturgy on Thursday 6 April at 10:15am. Parents and Guardians are welcome to join us for this Liturgy in the School Hall.
Stations of the Cross this year will be a static display in the Hall. Staff and students will visit the Hall to reflect and pray on the events of Holy Week using images, symbols and prayers.
More information on the Stations of the Cross in the next newsletter.
Light of Jesus Awards
Congratulations to the following students on the Light of Jesus Awards last fortnight:
Luan Lang - Kinder
Kai Oke - Yr 1
Jaxten Swansborough - Yr 2
Lincoln Lockwood - Yr 4
Amira Harry - Yr 5
Parish News...
St Francis Xavier Catholic Parish of Ballina
St Francis Xavier Church-47 Cherry Street, Ballina

Holy Family Church-94 Ballina Street, Lennox Head
_________________________________________
Parish Mass Times
| | |
| --- | --- |
| SFX Church Ballina | Holy Family Church Lennox Head |
| | |
| | |
| Week Day Masses-12 Noon (Tuesday to Friday) | |
| Reconciliation-Saturday 9am | |
Learning & Teaching News...
YEAR 4
In Year 4 Mathematics the students have been learning about how to estimate and measure length. Using real world scenarios, the students went outside and estimated the length of the perimeter of some of the spaces around our school. Did you know that the perimeter of the fitness track is 116 metres? And that the perimeter of the sandpit is 27 metres. Their estimates were very close approximations.
YEAR 3
In Year 3 Mathematics the students have been solving a range of mathematical problems which we call rich tasks. These tasks can have multiple ways of solving them and more than one answer. The students have been using a range of different operations to solve the tasks eg. repeated addition, multiplication, division and subtraction. They represent their answers using pictures, quantities and equations. Their task was:
18 people said they wanted to do folk dances. The teacher said they must dance in groups, but noone must be left out. How many different groups can you make?
The challenge task was 30 more people can join in the folk dancing. How many sized groups can be made now?
KINDERGARTEN GET TOGETHER
We would like to invite all Kindergarten families for an afternoon tea under the big tree on the playground (near the parent pick up gate on Crane Street) on Wednesday the 5th April after school from 3:30pm - 4:30pm.
Please bring along a plate of food and a rug as you get to know other Kinder families in a relaxed, social setting. The Kinder teachers will be present and will have some games for the children to play. They can also access the play equipment under supervision.
We hope to see you there!
Japanese News...
This week our Kindergarten and Stage 1 students learnt about the Doll Festival, ひなまつりhinamatsuri. This festival, celebrated on March 3rd each year in Japan, is a special day dedicated to girls, during which parents pray for the health and happiness of their daughters. The tradition of displaying beautiful Hina dolls in homes and public spaces dates back to the Edo Period (1603-1867). The dolls represent the Imperial Court with the Emperor and Empress dolls placed at the top of a stepped display. Our children made their own paper Hina Dolls and decorative crowns to take home in celebration of this event.
Gubby Sensei
Japanese Teacher
Sports News...
Diocesan Swimming Carnival
Last Friday, 3rd March St Francis Xavier had 8 students travel to Kempsey for the annual Diocesan Swimming Carnival. The students swam well on the day against a very strong contingent of swimmers from over 30 Primary Schools across the Lismore Diocese.
Congratulations to Thomas Briggs who placed second in the 11 years Boys Breaststroke. Thomas will now represent the Lismore Diocese and travel to Sydney for the Polding Swimming Carnival at Sydney International Aquatic Centre. Well done Thomas!
Alexandra Dogan
7th Open Girls 100m Freestyle

6th 12 yrs Girls 50m Freestyle

12th Senior Girls Backstroke

9th Senior Girls Butterfly
Oliver Seymour
7th 8yrs Boys 50m Freestyle
Maverix Thomas
Junior Boys Butterfly

Junior Boys Individual Medley
Lachlan Colegate
12th Senior Boys Backstroke

7th Senior Boys Relay
Callan Ross
Harley Ainsworth-Puglisi
Thomas Briggs
2nd 11 Years Breaststroke

7th Senior Boys Relay
Free Woolworths Cricket Blast Program for Girls
Last week a free Pop Up Blast for girls (Ages 7-12) started at St Francis Xavier School. The free program for girls continued this week and will be finishing on 22nd March. The girls participating in the program are having lots of fun learning new skills.
Congratulations to Stella McOmish (Richmond Zone Swimming) and Archie Conomos (Boys Football Winter Sports Trials) who represented St Francis Xavier at these two events recently. Stella and Archie, unfortunately, missed their group photos a fortnight ago.
Diocesan AFL Trials in Grafton
On Friday 24th February Callan Ross attended the Diocesan Primary Australian Football (AFL) selections trials which were held at Fisher Park in Grafton. Unfortunately Callan was not selected for the next level. From all reports, skill levels were high which made the selection process extremely challenging. Congratulations to Callan who attended the trials representing not only St Francis Xavier but also the Richmond Zone. Well done!
Mr Paddy Wilde
Sports Coordinator
Art News...
This term Stage 3 students have been working on drawing realistic portraits.
Each year the Art Gallery of NSW runs a portrait art competition for children aged 5-17 years. In class we viewed the website which featured the 2022 finalists. Students were invited and encouraged to enter the 2023 competition.
Two Year 5 students accepted the challenge of drawing a portrait of someone significant to them and have recently sent off their entries.
Willow Gordon
My Mum is very special to me and she is always there for me with her big smile and hugs. She guides me, supports me and loves me everyday and our bond is stronger than anything. My mum is strong, beautiful and caring and I hope to grow up to be just like her.
Liahn Chan-Gale
I chose my Aunty because she is very special to me and my family. We could have never done anything without her love and support. She always inspires me to be a better person.
Well done Willow and Liahn, we wish you all the best!
Mrs Hallie Watt
CAPA Teacher
Library News...
Scholastic Book Club Issue 2 orders are due by Friday, 24th March at 9am. Please order online or via cash at the school office before this date.
Mrs Carly Rule
Librarian
Canteen News...
We Need Volunteers for our School Canteen
Tammy is looking for volunteers for the canteen. If you are able to spare a couple of hours, between 9am and 11:30am, once a month please contact the school office on 66863370 or contact Tammy in the canteen and let her know what day suits you.
Canteen Roster-Term 1
Week 7
Monday, 13th March - Friday, 17th March
| | |
| --- | --- |
| Monday, 13th March | HELP NEEDED |
| Tuesday, 14th March | Hayley Piercy, HELP NEEDED |
| Wednesday, 15th March | Ashleigh Oke, HELP NEEDED |
| Thursday, 16th March | Christiana Whitty, HELP NEEDED |
| Friday, 17th March | Sue Keough, Kirra Gordon |
Week 8
Monday, 20th March- Friday, 24th March
Monday, 20th March

Aimee Mattinson,

HELP NEEDED

Tuesday, 21st March

Teegan Bruncke, Dominika Dziedzicka

Wednesday, 22nd March

HELP NEEDED

Thursday, 23rd March

HELP NEEDED

Friday, 24th March

Kristie Pettitt, Sharyn & Glenn Black
Wednesday Specials-Term 1
Week 7

Wednesday, 15th March

Nachos Day

-

$5.50

Week 8

Wednesday, 22nd March

Pie & Sausage Roll Day

Pies-$4.70, Party Pies-$1.60

Sausage Rolls-$4.70, Party Sausage Rolls-$1.60

Week 9

Wednesday, 29th March

Chicken Kebab Sticks with Rice Day

-$5.50

Week 10

Wednesday, 5th April

Sausage Sizzle Day

-$4.00
Sushi Specials Term 1
$3.90 each Chicken, Tuna, Avocado or Vegetarian-Sauce 20c each.
| | |
| --- | --- |
| Week 7 | Tuesday, 14th March |
| Week 9 | Tuesday, 28th March |
Lent Special Term 1
Wednesday, 22nd February to Wednesday 5th April
Crumbed Fish Burger-$5.00 each
Student Awards...
Congratulations to all of our student's who received an award this week.
| | | |
| --- | --- | --- |
| Mason Gibbs | Ethan Campbell | Rabbie Downie |
| Matilda McDermott | Anders Fletcher | Chase Jesberg |
| Jack Geddes | Madison Aslin | Alysha Miller |
| Punnakan Bunprakhom | Isla Parker | Emma Piercy |
| Marlee Atkinson | Maddie Sommerfeld | Kellah Pholi |
| Sienna Suffolk | Evie Whitty | Jaxon Farrell |
| Maebh Flynn | Jazz Smith | Poppy Ford |
| Riley Hall | Ruby Siviour | Kace Peachey |
| Samuel Goodlet | Gurfateh Singh | Colbie-Rae Chason |
| Hannah Morley | | |
Share this:
Happy Birthday...
Wishing all our students a wonderful birthday!
Friday, 10th March to Thursday, 23rd March
| | | |
| --- | --- | --- |
| Yindiana Pitt | Macey Buchan | Alejandra Gonzalez |
| Ari Hilyard | Stella McOmish | Olivia O'Brien |
| Scott Nguyen | Marley Harrison | Michele Ciccia |
| Archie Scott | Javier Houghton | Maggie Doyle |
| Charlotte Doyle | Sylvie Davis | Mackenzie Wells |
Parent Information..
School Fees
All families wishing to pay their school fee account by way of instalments for the 2023 school year should have returned their completed Payment Option form to the school office, payments were to start on Wednesday, 1st March 2023.
If you have opted to pay the school fees by each Term please note payments are due by Week 2 of each Term.
Below are some Compass Workflows to help parents pay their fees via the Compass App and or computer desktop.
Newsletter
We publish our School Newsletter on a fortnightly basis. The newsletter will be published in Week Two, Four, Six, Eight and Ten of each Term. All important notices and events will be communicated via Compass on a regular basis. Our school Facebook page will be updated regulary with exciting events that have happened at school.
School Assembly
School Assemblies are on a fortnightly basis, in line with our Newsletter.
Student Absences
Parents are reminded that if your child/ren are absent from school you must follow the following steps:
All absences must be received in writing.
Student Partial Absences
Parents are reminded not to enter a partial attendance note for their child/ren. To be compliant with the attendance SOP, we need to ensure that child safety is maintained as far as possible. Parents are to come to the school office to drop/collect the student. This gives the parent the opportunity to provide the reason for the early departure/late arrival at that time.
Notification of Extended Leave
All notification of extended leave MUST be submitted prior to the leave commencing.
Travel outside of the school holiday period is counted as an absence for statistical purposes. If your child/ren are absent for 10 to 100 days, please ensure that you complete a Form A4 Notification Extended Leave Travel (available at the School Office or click on the link Extended Leave Form). An absence in this case will be recorded using the Code 'A' (Unjustified Leave).
In exceptional circumstances parents may complete a Form A1 Application for Extended Leave-Travel for consideration, explaining why an absence for extended leave is in the best educational interest of the student. The Principal may accept or decline this application.
Please note relevant travel documentation such as an e ticket or itinerary (in the case of non-flight bound travel within Australia only) must be attached to these applications.
Please note, a return text message notification will NOT be accepted for Extended Leave.
Compass Events-School Excursions/Events
The Compass Event Module is where you receive all the information about an excursion or an event. It will also be where you are required to give consent and make payment.
The Event Module has replaced the hard copy note that would normally be sent home. If you receive an event notification or email, this means your child/ren are required to participate in the event. Please do not disregard the notification or email. If you have any questions about an event, please contact the class teacher or the school office.
Parents are required to action the Excursion Event in Compass prior to the due date that is stated in the event, unfortunately if you miss the due date your child/ren may miss out on attending. Event notifications will come via email and Compass notification on your Compass App.
Medical Plans 2023
Parents/Guardians who have indicated on their child's Enrolment that they suffer from Asthma or allergies/anaphylaxis/seizures – Please note that plans are sent home at the start of every year to be completed and signed by your GP. Please return the completed plan to our school office with all required medication as soon as possible. If you have any questions, please contact our school office on 66863370.
Student Messages…
If you need to contact the school to give your child/children a message regarding a change to arrangements for after school transport, please ensure you phone the school office prior to 1:45pm to ensure the message can be delivered in time. Unless it is an absolute emergency, we are unable to ensure messages can be delivered at such short notice and PLEASE NO EMAILS to notify your child/children of any changes, as we cannot guarantee that the message will be delivered in time to your child.
All after school care arrangements should be relayed to your child/children prior to arriving at school and in the case of infant's children, the teacher should also be notified of any change to arrangements, particularly in relation to bus travel, by a written note/email.
As you can appreciate the school is a very busy place at home time, so your assistance and consideration in this regard would be greatly appreciated.
Parent Sign In
All parents are reminded that if they are entering the school grounds, for what ever the reason, you MUST sign into the school via the Ipad in the front office or via the QR codes at our gates. There are no exceptions.
Student Travel to and from School
Students are supervised at school from 8:30am. If your child/ren are walking, riding or being dropped off, they should not arrive before 8:30am. When they do arrive at school they are to sit under the Shelter Shed until instructed by the teacher on duty.
When leaving school, students depart in one of four ways:
Bus - Children are to sit in bus lines and wait for teachers' instructions to board their bus. Bus pass forms are available online.
Bike - Students are to move quickly to their bikes or scooters and walk these to the gate at the front of the school. They must not ride these on school premises and they should take the shortest and safest route home.
Walking - These children should leave through the front school gate without delay. Any child needing to cross Swift Street should wait at the crossing and be directed by the Crossing Supervisor.
Pick up - Children being picked up should wait in the School Hall with the supervising teacher until collected and then leave with their parent or guardian. Students should be collected no later than 3:20pm.
Parents are reminded not to ask their child/ren to wait outside the school fence or in an unsupervised area. This is for the safety of the child/ren. All students MUST be collected from the School Hall or Martin Street Gate.
Road Safety Around the School
In order to keep our students safe, please adhere to the road safety rules around St. Francis Xavier when dropping off or collecting your child.
All roads surrounding and adjoining our school are signed and subject to School Zone Road Restrictions from 8am to 9:30am in the morning and 2:30pm to 4pm in the afternoon on all school days. Ballina Shire Council enforces these road rules and does issue penalties, particularly for double-parking.
There are two private residences, one on the corner of Swift St and Martin St, and one on the corner of Martin St and Crane St. Please ensure you are not parking in these driveways. These driveways need to be kept clear at all times for resident access.
Kinder 2024 Information Night...
Parent Assembly News...
Parent Assembly is a parent representative body that operates in the schools of the Lismore Diocese. We support parents and carers to be the best parents they can be and effective partners in their child's education.
We do this by providing high quality and engaging opportunities for parents in four key areas:
Parenting education

Family faith enrichment

Parent engagement in learning

Networking and support amongst parents.
Every parent and carer is a member of the Parent Assembly but each school aims to have two or more Parent Assembly representatives who help to arrange inspiring and helpful presentations and resources for parents.
The role of the Parent Assembly Representative is an important one and does not require a large time commitment.
Parent Assembly Representatives:
Attend Regional Parent Assembly meetings once a term.

Collaborate with school leadership and the Parent Assembly team to organise parent education workshops

Build communication between the school parent organisation (eg. P&F, Parish School Forum) and the Parent Assembly

Be a welcoming presence in your school community
If you are interested in joining the Parent Assembly team talk to your principal or email parents@lism.catholic.edu.au
Xavier Catholic College News...
Community News...
Trinity Lismore Open Day Information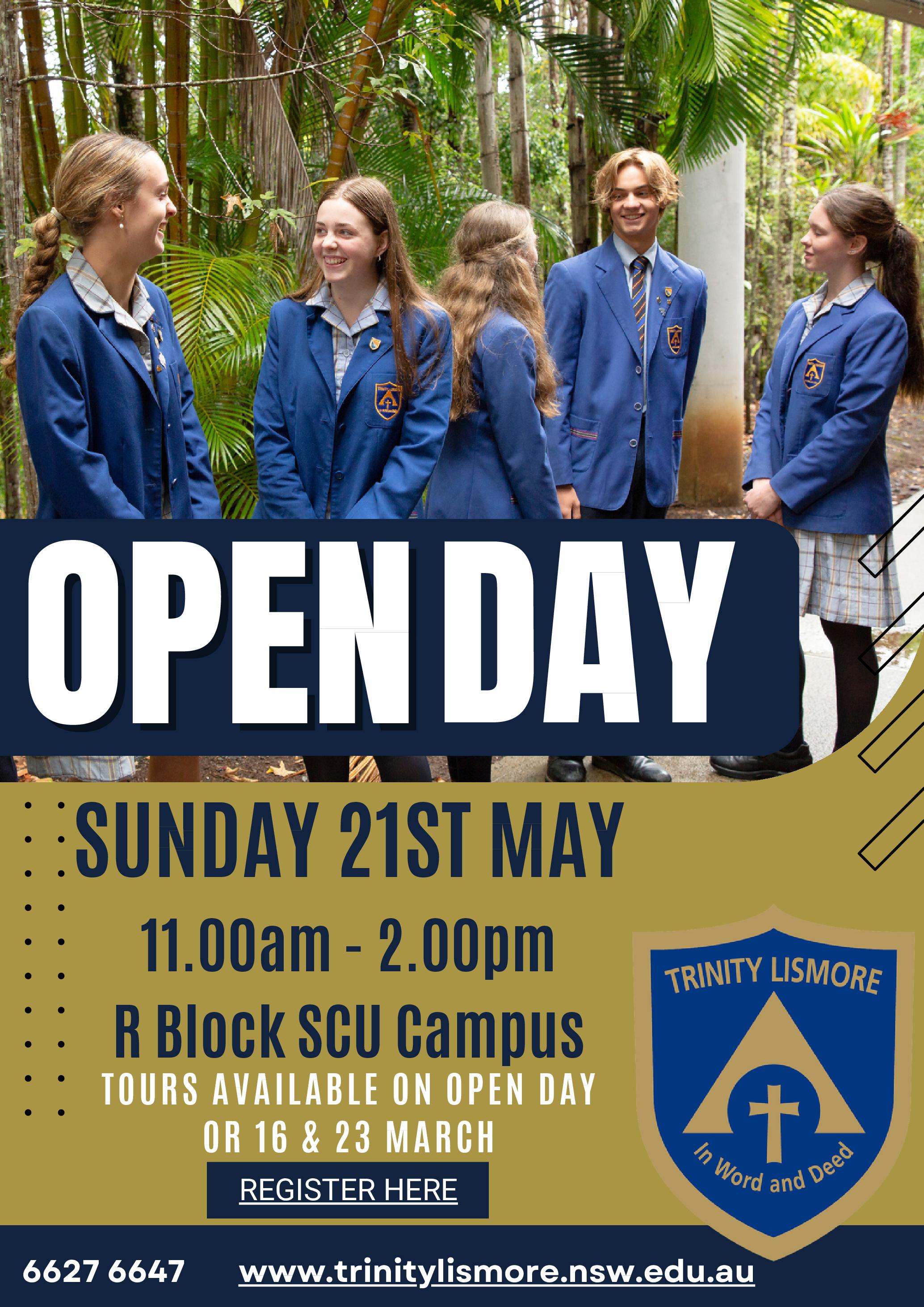 Webinar-Anxiety & Resilience
Music Lesson Information
NAPLAN Information...
Please read the important information regarding NAPLAN 2023 on the below links.