Newsletter-Term 1-Week 3-Friday 18th February 2022
Principal's News...
Dear Families and Friends,
Our Year 6 leaders and school buddies are to be congratulated on the way they have welcomed our Kindergarten students with kindness and compassion. They have been busy assisting our Kinder students to settle in the morning, explore our playground at break times and to provide a friendly face.
It is clear from my classroom visits, that the students have settled well into their new learning spaces and the learning is well underway. From problem solving in Mathematics to rigorous reading and writing tasks in English. Our Catholic faith is also being celebrated through Religious Education and upcoming Mass celebrations for Term 1. We're very much looking forward to a school year full of faith, learning and growth for our students.
Parent Forum Meeting Term 1
Our first Parent Forum meeting for 2022 will be held on Tuesday 1st March from 5:30pm-6:30pm. The Parent Forum is a partnership between parents and the school and it is a valuable way to share ideas, views, concerns and make suggestions for improvement. It's a great way to connect with other families within our school and we're looking forward to seeing you.
In order to meet COVID-19 restrictions, please RSVP to Kristie Coster via email: kristie.coster@lism.catholic.edu.au. This will allow us to implement COVID safe planning for the meeting.
Road Safety Around the School
In order to keep our students safe, please adhere to the road safety rules around St. Francis Xavier when dropping off or collecting your child.
All roads surrounding and adjoining our school are signed and subject to School Zone Road Restrictions from 8am to 9:30am in the morning and 2:30pm to 4pm in the afternoon on all school days. Ballina Shire Council enforces these road rules and does issue penalties, particularly for double-parking.
There are two private residences, one on the corner of Swift St and Martin St, and one on the corner of Martin St and Crane St. Please ensure you are not parking in these driveways. These driveways need to be kept clear at all times for resident access.
This week marks Random Acts of Kindness week during which we are inspired and encouraged to put kindness first and share it everywhere we go. This also connects with our school values of Compassion and Hospitality, demonstrated in the way we greet, speak and act in our daily interactions with one another. May you all experience kindness, compassion, gentleness and patience.
Sincerely,
Kristie Coster
School Calendar
Term 1
| | | |
| --- | --- | --- |
| Week 4 | Monday, 21st February | Year 6 Leadership Mass |
| | Friday, 25th February | Year 5 & Year 6 Digital Education Workshop |
| Week 5 | Tuesday, 1st March | Shrove Tuesday (Pancake Day) |
| | | Parent Forum Meeting - 5:30pm to 6:30pm |
| | Wednesday, 2nd March | Ash Wednesday |
| Week 6 | Tuesday, 8th March | Diocese Summer Sports - Touch Trials |
| | Friday, 11th March | Diocese Winter Sports Trials - Grafton/South Grafton |
| Week 7 | Thursday, 17th March | Stage 1 Mass - 2:25pm |
| Week 8 | Thursday, 24th March | Stage 2 Mass - 2:25pm |
| Week 9 | Thursday, 31st March | Stage 3 Mass - 2:25pm |
| Week 10 | Wednesday, 6th April | Easter Liturgy - 2:30pm |
| | Thursday, 7th April | Last Day of Term 1 |
| | Friday, 8th April | PUPIL FREE DAY-(Staff Development Day) |
Assistant Principal Mission News...
Year 6 School Leaders' Induction Mass
This coming Monday, 21st February at 9.30 am St Francis Xavier Primary School will be holding a special Year 6 Induction Mass in the church. Our School Captains and House Captains will be presented with their badges and our leaders will all receive their leadership certificates. Due to COVID-19 restrictions, we can only have two family members per child attend. We will, however, be filming the mass and the video will be posted on the school's YouTube Channel.
Caritas Project Compassion
In preparation for Lent (Wednesday, 2nd March) this week all classes received their Project Compassion fundraising boxes. During Lent, each year Catholic Schools all over Australia give generously to support Caritas' Project Compassion.
Your generous support can help to change the lives of some of the world's most vulnerable people. Join us this Lent to raise much-needed funds for people living in poverty.
Anatercia's Story
Tragedy struck early for Anatercia. Her father passed away when she was just four and her mother has struggled with chronic health issues ever since.
Anatercia, her brother, and her sick mother moved in with their elderly grandparents into a small hut in southern Mozambique, where there is no electricity, hospital, secondary school or supermarket.
As her grandparents aged, Anatercia's grandfather developed blindness and her grandmother could no longer walk to their farm; their only source of income.
Their crops withered from a mixture of neglect, irregular rainfall, droughts and floods. They were unable to maintain their livelihood and the family often went hungry.
Thanks to the generosity of our supporters, Anatercia and her family were able to join the Integrated Rural Development Program, supported by Caritas Australia's partner, Caritas Regional Chokwe, which provided them with food, seeds, school supplies and a school uniform for Anatercia.
2022 Sacramental Program
| | |
| --- | --- |
| Confirmation | Term 2 (9th June) |
| Reconciliation | Term 3 (TBA) |
| First Holy Communion | Term 4 (TBA) |
Regards and God Bless,
Matthew Ritchie
Assistant Principal Mission
Parish Mass Times
| | |
| --- | --- |
| SFX Ballina Parish (max 184 people) | Lennox Head Parish (max 70 people) |
| 6:00pm Saturday Vigil Mass | 5:00pm Saturday Vigil Mass |
| 9:00am Sunday | 7:30am Sunday |
| 11:00am Sunday | |
Parish Notice
St Francis Xavier Parish, Ballina
Website: www.sfxballina.org.au
Masks must be worn when attending Mass. There is no singing and the 2 square metre rule applies with in our two churches. QR codes are the preferred way of registering to attend our parish Masses. QR codes are located at the entrances of both Churches. For your convenience attendance sheets are provided upon arrival to manually leave your contact details when attending Mass.
Vaccinated and non-vaccinated can join together in places of worship for Mass, the wearing of masks is mandatory.
Please do not attend Mass if you are not feeling well.
Use hand sanitiser provided at entrance and exit doors.

Sit on crosses (X) allocated in the pews to comply with the required social distancing rules of 2 square metres (families can sit together).

Singing is not permitted by congregants (choir of no more than 10 allowed)

5 x weekend Masses and 4 x weekday Masses are celebrated each week in our parish.

Our churches are open for private prayer Monday to Friday, please sign the sheet provided when visiting or use the QR code.
Learning & Teaching News...
At the commencement of the year, our school family takes time to focus on nurturing and developing positive student relationships that creates a wonderful sense of belonging. This investment in building relationships with our students ensures they feel valued, loved and supported and are ready for learning. I have witnessed this across our school from Kindergarten to Year Six.
MATHS ASSESSMENT INTERVIEW
During our fortnightly Professional Learning Team (PLT) meetings, we have been examining each year's Maths Assessment Interview (MAI) data. This data has informed how we are differentiating the curriculum to cater for the learning needs of our students when teaching Mathematics.
PLAY BASED LEARNING
In Kindergarten the students have been getting to know each other and building new friendships through play. They take great joy in telling their teachers that they made a new friend during play today!
Lisa Conte
Leader of Pedagogy
Learning & Teaching Gallery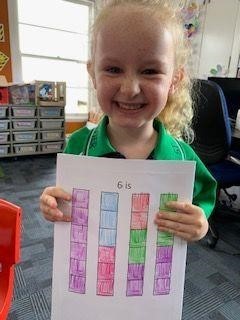 Prev
Showing images
1 - 8
of 9
Next
Canteen News...
We Need Volunteers for our School Canteen
Tammy is looking for volunteers for the canteen. If you are able to spare a couple of hours, between 9am and 11:30, once a month please contact the school office on 66863370 or contact Tammy in the Canteen and just let her know what day suits you. Please note that to volunteer in the canteen you will need to be double vaccinated and upon signing into the school, the office staff will need to sight your COVID vaccination certificate.
Canteen Roster - Week 4
Monday, 21st February to Friday, 25th February
| | |
| --- | --- |
| Monday, 21st February | HELP NEEDED |
| Tuesday, 22nd February | HELP NEEDED |
| Wednesday, 23rd February | Tamara Ward - HELP NEEDED |
| Thursday, 24th February | Barbara Jones - HELP NEEDED |
| Friday, 25th February | Louise Tyrrell & Sue Keough |
Canteen Specials - Term 1
Week 4

Wednesday, 23rd February

Hotdog Day-$4.00

Week 5

Wednesday, 2nd March

Pizza Day-$3.00

Week 6

Wednesday, 9th March

Pasta Day-$5.00

Week 7

Wednesday, 16th March

Chicken Sub/Wrap Day-$4.90

Week 8

Wednesday, 23rd March

Pie & Sausage Roll Day

Pie & Sausage Rolls-$4.70

Party Pies & Party Sausage Rolls-$1.60

Week 9

Wednesday, 30th March

BLT Day-$4.90

Week 10

Wednesday, 6th April

Sausage Sizzle Day-$4.00
Please note, the paper version of our specials will no longer be sent home with students, this will commence from Week 6. The Weekly Specials and Price List went home in Week 3 this term for your reference. Our preferred method of ordering and payment is through our Qkr App, however cash is still accepted. Orders need to be placed by 8:30am.
LENT SPECIAL
Wednesday, 2nd March to Wednesday 6th April
Crumbed Fish Burger-$4.90 each
Sushi Special Day-Term 1
$3.90 each Chicken, Tuna, Avocado or Vegetarian Sauce 20c each
| | |
| --- | --- |
| Week 5 | Tuesday, 1st March |
| Week 7 | Tuesday, 15th March |
| Week 9 | Tuesday, 29th March |
Sports News...
Richmond Zone Swimming Carnival
On Monday, 14th February, 36 students travelled to the Lismore Memorial Baths for the annual Richmond Zone Swimming Carnival. Although it was a little overcast, the weather managed to remain fine for the duration of the day and all events were completed. Congratulations to all of the swimmers who competed on the day. Holy Family were crowned the winning school with St Mary's Casino second and St Francis Xavier third.
Congratulations to the following students who placed in the top two in their respective events and will now travel to Murwillumbah on Wednesday 23rd February for the Diocesan Swimming Carnival:
| | |
| --- | --- |
| Mya Poptie | Erika Wisemantel |
| Alexandra Dogan | Taya Coates |
| Alysha Miller | Reef Molyneux |
Richmond Zone Winter Sports Trials
On Thursday, 17th February, the Richmond Zone Winter Sports Trials were held at various venues across Lismore. St Francis Xavier had students competing in Rugby Union (1), Rugby League Opens (4), Rugby League 11's (2), Netball (6), Boys Football (4) and Girls Football (3).
Congratulations to the following students who were successful in being selected to attend the Diocesan Winter Sports Trials in early March.
| | | | |
| --- | --- | --- | --- |
| Rugby League Opens | Girls Soccer | Netball | Rugby League 11's |
| Jayden King | Aliyah Gerada | Zali Raudonikis | Jack Keough |
| Wil Kennedy | Lillian Bruncke | Hockey | Rugby Union |
| Toby Thick | Boys Soccer | Jye Miller | Rab Downie |
| Ryan Waldock | Jett Haley | | |
Diocesan AFL Trials
Today St Francis Xavier had three boys attend the Diocesan AFL Trials in Grafton. The boys will be competing against students from across the Diocese - Tweed to Port Macquarie. Callan Ross, Kai Colegate & Lachlan Colegate were looking forward to the experience. We will hear from the boys early next week and find out how they went.
Paddy Wilde
Sports Coordinator
School Fees Term 1 2022
School Fees for Term 1 are now available via the Compass App. Any questions, please phone the school office on 66863370. Direct deposits are not a payment option to pay school fees. Please click on the link below to view the School Fee Letter for 2022.
Student Awards...
Term 1 - Week 3
| | | | |
| --- | --- | --- | --- |
| Marcel Messager | Luke Irwin-Anderson | Locklan Creighton | Soli Edwards |
| Joshuah Jacobsen | Chase Jesberg | Poppy Sellen | Daisy Carr-Hobbs |
| Mason Hordern | Kellah Pholi | Isabella Iverson | Oliver Seymour |
| Lolly Allan | Maddie Sommerfeld | Hugo Leturgie | George Kolokithas |
| Isla Parker | Punnakan Bunprakhom | Ella Rule | Jack Keough |
| Callan Ross | Fletcher Pereira | Taya Coates | Zachariah Wilton-Ryan |
| Hope Chinnery | Wil Kennedy | Zion Apanui | Ava Morley |
| Maggie Doyle | | | |
Happy Birthday...
18th February - 24th February 2022
Wishing all our students a fabulous birthday!
| | |
| --- | --- |
| Chase Thompson | Isla Noble |
| Oliver Seymour | Soli Edwards |
| Sophie Dorey | Alice Shaw |
| Daisy Carr-Hobbs | |
School Parking in School Zones...
Community Sport News...