Newsletter-Term 4-Week 6-Friday 18th November 2022
Principal's News...
Dear Parents,
Last Friday I had the great privilege of accompanying our four School Captains as they represented our school at the Remembrance Day Commemoration Service at RSL Memorial Park. Lennox, Lillian, Kaden and Zali proudly attended the service and participated in the wreath laying ceremony on behalf of our school. I was so proud of their engagement in this duty and their conduct throughout the experience. As a community it was wonderful to pay our respects to those servicemen and women who made sacrifices to fight for freedom and a peaceful world. Having had the opportunity a number of years ago to visit Lone Pine and the Gallipoli Peninsula in Turkey, I was deeply touched by the personal sacrifices of so many young ANZACs. The impact of such sacrifices is echoed through the families of these courageous men and women and their legacy is maintained through our continuing gratitude, honour and respect. Lest we Forget.
17 children from our Year 5 cohort presented themselves as nominees for the 2023 School Captain positions. These boys and girls will present their speeches to the children from Year 2 to Year 5 at 2:20pm next Thursday (24th Nov). I thank our nominees for their applications and look forward to guiding our students through the next steps in this process. As previously stated, the successful applicants will be presented at our Carols on the Green.
Although the end of the year is almost upon us, there is still so much to be done as we round off what has been, for many of us, a challenging year, and as we prepare for the year ahead. Our teachers have been busy preparing end of year reports and working on class allocations for 2023. We are yet to hold, amongst other events, our Year 6 Canberra excursion, our Choir's local concert tour, our Competitive Swimming Carnival, Carols on the Green and Year 6 Graduation. During these last few weeks, we ask for your continued, and in some cases, more focused support in ensuring our children adhere to all aspects of our school expectations. In many respects, this demonstration of pride in our school is a wonderful way to show how truly blessed we are to be a part of such a lovely community.
Peace in Christ
Dan Gubby
School Calendar-Term 4
Week 7
Monday, 21st November

Intensive Swimming Program

Kinder- 12 to 1pm
Year 1 & 2- 1pm to 2pm
Year 3 & 4-10:30am to 11:30am
Year 5 & 6-9:30 to 10:30am






Nano Nagle Feast Day



Tuesday, 22nd November

Intensive Swimming Program-Infants Only

Kinder -12 to 1pm
Year 1 & 2-1pm to 2pm



Wednesday, 23rd November

Intensive Swimming Program-Infants Only

Kinder-12 to 1pm
Year 1 & 2-1pm to 2pm



Thursday, 24th November

School Captain Speeches-2:15pm to 3:15pm (School Hall)



Friday, 25th November

Competitive Swimming Carnival






Diocesan Summer Sports Trials



Sunday, 27th November

Year 6 Depart for Canberra

Week 8
Monday, 28th November

Year 6 Canberra Excursion



Tuesday, 29th November

Year 6 Canberra Excursion



Wednesday, 30th November

Year 6 Canberra Excursion



Thursday, 1st December

Year 6 Canberra Excursion






School Mass-St Francis Xavier Feast Day-2:15pm to 3:15pm



Friday, 2nd December

Year 6 Return from Canberra






Assembly-2:30pm (Year 3 Prayer)

Week 9
Thursday, 8th December

Carols on the Green-5pm



Friday, 9th December

Final Assembly for 2022

Week 10
Tuesday, 13th December

Step Up Day-2:15pm to 3:15pm



Thursday, 15th December

Year 6 Graduation-9am






Last Day of Term 4 (all students)




Friday, 16th December

Pupil Free Day-Staff Development Day (staff only)
Assistant Principal Mission News...
Remembrance Day Liturgy
Thank you to all of the students and staff who participated in the Remembrance Day Liturgy last Friday. Also a big thank you to Bill from the Ballina RSL for lending the school an original slouch hat.
Part of the service was the reading of the poem In Flanders Fields by John McCrae. This famous poem portrays the horrors faced by the soldiers as they battled in France during WW1. For those who could not make it last Friday, I have shared this special poem below.
In Flanders Fields
In Flanders fields, the poppies blow
Between the crosses, row on row,
That mark our place; and in the sky
The larks, still bravely singing, fly
Scarce heard amid the guns below.
We are the Dead. Short days ago
We lived, felt dawn, saw sunset glow,
Loved and were loved, and now we lie
In Flanders fields.
Take up our quarrel with the foe:
To you from failing hands we throw
The torch; be yours to hold it high.
If ye break faith with us who die
We shall not sleep, though poppies grow
In Flanders fields.
Save the Date: Saturday, 26th November at 6.00 pm
St Francis Xavier Parish Bambinelli Advent Mass
Preparing for and remembering the true meaning of Christmas is important during this holy and joyful season. To celebrate the 1st weekend of Advent, all families are warmly invited to attend a special St Francis Xavier Primary and Holy Family Primary Schools' Parish Mass in the church at 6.00 pm on the 26th of November.
One tradition we hope to establish this year, to support our preparation for Christmas, will be the Blessing of the Baby Jesus. This tradition was first instituted by St. John Paul II for the children of Rome when he encouraged families to bring their baby Jesus (Bambinelli) from each of their home nativity sets. It became a special way for children to connect their nativity scene at home to the celebration of Christmas at their church.
On Saturday the 26th of November, we invite all families to bring their baby Jesus from their family Nativity set to our 1st Week of Advent Mass for a special blessing. While the baby Jesus traditionally gets placed in the Nativity Scene on Christmas Day, having the baby Jesus at this special Mass will be a special way of remembering what we are truly preparing for during this Season of Advent and then into the celebration of Christmas.
For families who don't have a nativity set, you may consider purchasing or even making your own.
Matthew Ritchie - Assistant Principal Mission
Parish News...
UPDATE TO PLACES OF WORSHIP
Easing of restrictions within our Churches from November
Collections by way of passing the plate may recommence. Plates to be sanitise before and after use.
Communal sign of Peace may be exchanged physically. It is up to the individual. Bowing and waving are also commonly being used.
Administering the Eucharist on the tongue may recommence. As far as possible those who receive on the tongue should come after those who receive on the hand. This is for the safety of the person distributing Holy Communion and those later in the queue.
Offertory procession to recommence. If you would like to be involved in this, please advise the Parish Office and a roster

(if needed)

will be prepared for our weekend Masses.
Parish Mass Times
SFX Ballina Parish
Lennox Head Parish
6pm-Saturday Vigil Mass
5pm-Saturday Vigil Mass
9am-Sunday
7:30am-Sunday
11am-Sunday



12 Noon-Weekday Masses

(Tuesday, Wednesday, Thursday & Friday)



Learning & Teaching News...
Dear Parents and Families,
Year 1 have explored God's Creation in a Project Based Learning unit for Religious Education. As their final part of the project, students created an artwork of their favourite part of creation and reflected on why they think they need to look after it.
These beautiful artworks were displayed in the Year 1 classroom and parents and teachers were invited to view the artworks and scan the QR code to listen to each student's response.
Year 1 RE Art Gallery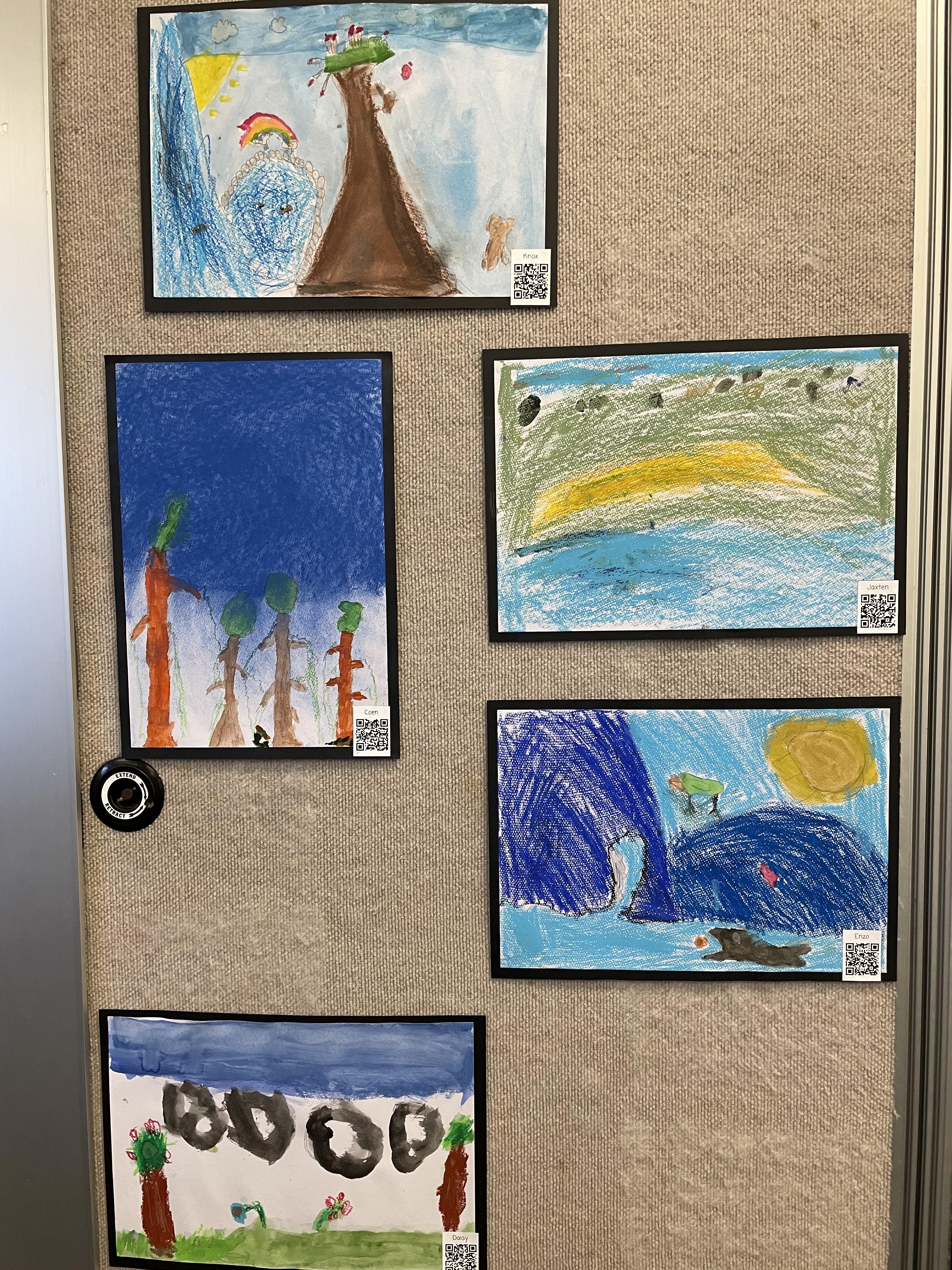 KINDERGARTEN WRITING
In Kindergarten the students have been learning to write persuasive texts. They have been focussing on using strong language to persuade the reader and using conjunctions when writing compound sentences.
In my view I totally know that dogs are the best pet because they are smart. I know that dogs are the best pets because they are nice. I believe that dogs are the best pets because I like dogs! - Oliver.
Arfy the dog was looking for an owner because he was lonely and poor. Arfy the dog was sending a letter to everybody in the whole entire world. Arfy got a letter back from the post and then they went for a walk together. Arfy definitely did that because he was a poor dog and now they'll live happily ever after. - Monty.
JAPANESE
In Year 5 Japanese, the students have been creating daily routines both orally and in their writing. Matilda asked Mrs Gubby if they could create compound sentences using conjunctions. Mrs Gubby taught them how and the entire class challenged themselves and attempted to turn their simple sentences into compound sentences. There was much excitement and achievement!
Kristie Coster - Assistant Principal Learning & Teaching
Lisa Conte - Leader of Pedagogy
Sports News...
2023 Competitive Swimming Carnival
A reminder that the 2023 St Francis Xavier Competitive Swimming Carnival is on Friday, 25th November 2022.
The Competitive Carnival is for students who will be in Year 2-6 next year (8 years up to 12/13 years).
Students can nominate in the following events:
Open 100m Freestyle

50m Freestyle

50m Backstroke

50m Breastroke

50m Butterfly

200m Individual Medley
Please fill in the online nomination form via the Compass Event prior to Monday, 21st November 2022, if you would like your child/children to compete in the competitive swimming events.
Please note, only the competitive swimmers and Year 6 students will be attending this carnival.
Paddy Wilde - Sports Coordinator
Canteen News...
We Need Volunteers for our School Canteen
Tammy is looking for volunteers for the canteen. If you are able to spare a couple of hours, between 9am and 11:30, once a month please contact the school office on 66863370 or contact Tammy in the canteen and let her know what day suits you.
Canteen Roster-Term 4
Week 7
Monday, 21st November- Friday, 25th November
Monday, 21st November
Amiee Mattinson,

HELP NEEDED
Tuesday, 22nd November
Hayley Piercy,

HELP NEEDED
Wednesday, 23rd November
Ashleigh Oke,

HELP NEEDED
Thursday, 24th November
Christiana Whitty,

HELP NEEDED
Friday, 25th November
Kirra Gordon,

HELP NEEDED
Week 8
Monday, 28th November- Friday, 2nd December
Monday, 28th November
HELP NEEDED
Tuesday, 29th November
Teegan Bruncke, HELP NEEDED
Wednesday, 30th November
Tamara Ward, HELP NEEDED
Thursday, 1st December
Barbara Jones,

HELP NEEDED
Friday, 2nd December
Louise Tyrrell & Sue Keough
Wednesday Specials-Term 4
All Wednesday Specials orders to be placed via the QKR App by 8:30am Tuesday morning prior to the Wednesday Special Day. Our preferred method of ordering and payment is through our Qkr App, however cash is still accepted at the Canteen.
| | | |
| --- | --- | --- |
| Week 7 | Wednesday, 23rd November | Sliders Day |
| Week 8 | Wednesday, 30th November | Pie & Sausage Roll Day |
| Week 9 | Wednesday, 7th December | Chicken Kebab Day |
| Week 10 | Wednesday, 14th December | Sausage Sizzle Day |
Tuesday Sushi Day
All Sushi Orders need to be placed via the QKR App by 8:30am Monday morning prior to Sushi Day
| | |
| --- | --- |
| Week 7 | Tuesday, 22nd November |
| Week 9 | Tuesday, 6th December |
Share this:
Student Awards...
Term 4-Week 6
Congratulations to all of award recipients this week.
| | | |
| --- | --- | --- |
| Tanika Wager | Quinn Campbell | Willow Hilyard |
| Amra Basson | Tegvir Mangat | Ivy Boizard |
| Mary Richardson | Oliver O'Donnell | Honey Barnes |
| Scarlett Sullivan | Lily Ross | Khloe Weir |
| Evie Whitty | Maggie Rehwinkel | Einin Shannon |
| Alexis Simpson | Makayla Washington | Mason Glasby |
| Edee Muldoon | Benjie Love | Jack Keough |
| Ellen Freeman | Charlotte O'Neill | Lachlan Jacobsen |
| Cody Flatley | Holly Tyrrell | Toby Thick |
| Lachlan Saunders | | |
Happy Birthday...
Friday, 18th November to Thursday, 1st December
Wishing all our students a wonderful birthday!
| | | |
| --- | --- | --- |
| Van Hogden | Owen Williams | Aiden Beniwal |
| Jaxon Smith | Jack Geddes | Kai Kanyaro |
| Lolly Allan | Dakota Bostock | Nathan Hoang |
| Zachariah Wilton-Ryan | Frankie Daenerys Valdellon | Yash Kumar |
Parent Reminders...
Students NOT Returning in 2023
As we have a number of perspective students on our wait list, parents of current students NOT intending to return to St Francis Xavier Primary School in 2023 are asked to notify the school in writing as soon as possible.
We are currently in the process of planning our 2023 classes and this information is essential.
Pupil Free Day
Friday, 16th December 2022
(Staff Development Day)
Newsletter Update
We will now be publishing our School Newsletter on a fortnightly basis. The newsletter will be published in Week Two, Four, Six, Eight and Ten of each Term. All important notices and events will be communicated via Compass on a regular basis. Our school Facebook page will be updated regulary with exciting events that have happened at school.
School Assembly Update
School Assemblies are now on a fortnightly basis, in line with our Newsletter.
Student Absences
Parents are reminded that if your child/ren are absent from school you must follow the following steps:
All absences must be received in writing.
Notification of Extended Leave
All notification of extended leave MUST be submitted prior to the leave commencing.
Travel outside of the school holiday period is counted as an absence for statistical purposes. If your child/ren are absent for 10 to 100 days, please ensure that you complete a Form A4 Notification Extended Leave Travel (available at the School Office or click on the link Extended Leave Form). An absence in this case will be recorded using the Code 'A' (Unjustified Leave).
In exceptional circumstances parents may complete a Form A1 Application for Extended Leave-Travel for consideration, explaining why an absence for extended leave is in the best educational interest of the student. The Principal may accept or decline this application.
Please note relevant travel documentation such as an e ticket or itinerary (in the case of non-flight bound travel within Australia only) must be attached to these applications.
Please note, a return text message notification will NOT be accepted for Extended Leave.
Compass Events-School Excursions/Events
The Compass Event Module will be where you will receive all the information about an excursion or an event. It will also be where you are required to give consent and make payment.
The Event Module has replaced the hard copy note that would normally be sent home. If you receive an event notification or email, this means your child/ren are required to participate in the event. Please do not disregard the notification or email. If you have any questions about an event, please contact the class teacher or the school office.
Parents are required to action the Excursion Event in Compass prior to the due by date that is stated in the event, unfortunately if you miss the due date your child/ren may miss out on attending. Event notifications will come via email and Compass notification on your Compass App.
A kindly reminder that this is a new process for everyone, parents, teachers and administration staff, we are all learning together.
School Uniform
With the warmer weather upon us, please make sure your child/ren are in our summer uniform as per our School Uniform Policy.
Parent Sign In
All parents are reminded that if they are entering the school grounds, for what ever the reason, you MUST sign into the school via the Ipad in the front office or via the QR codes at our gates. There are no exceptions.
Student Travel to and from School
Students are supervised at school from 8:30am. If your child/ren are walking, riding or being dropped off, they should not arrive before 8:30am. When they do arrive at school they are to sit under the Shelter Shed until instructed by the teacher on duty.
When leaving school, students depart in one of four ways:
Bus - Children are to sit in bus lines and wait for teachers' instructions to board their bus. Bus pass forms are available online.
Bike - Students are to move quickly to their bikes or scooters and walk these to the gate at the front of the school. They must not ride these on school premises and they should take the shortest and safest route home.
Walking - These children should leave through the front school gate without delay. Any child needing to cross Swift Street should wait at the crossing and be directed by the Crossing Supervisor.
Pick up - Children being picked up should wait in the School Hall with the supervising teacher until collected and then leave with their parent or guardian. Students should be collected no later than 3:20pm.
Lost Property
Our Lost Property box is full to the brim with unnamed hats, jumpers and lunchboxes.
If your child has lost an item, particularly a jumper, please ask them to speak with a teacher and take a look in lost property.
All of the jumpers look quite new and it would be a shame to see them go uncollected.
Please label all your children's belongings. This includes hats, jumpers, lunchboxes, storage containers. It is important that all student's belongings are clearly named, and we recommend checking that the name is still clearly visible throughout the year. Please note all named items are returned to students.
School Fee News
Please note that School fees for all families not on an official payment arrangement with the school office this year, are now well overdue, and must be finalised in full within the next fourteen (14) days.
If there is a genuine financial difficulty in meeting this request it is imperative that an appointment is made with the Principal in order to discuss a suitable payment arrangement.
It is an expectation that payment arrangements are strictly adhered to at all times. If payment instalments are in arrears it is also imperative to contact the school immediately to discuss the issue with the Principal.
You can access and pay your fee account through the Compass App or at the School Office.
Term 1 2023 Start Dates...
Friday, 27th January 2023-Staff Administration Day (staff only)
Monday, 30th January 2023-MAI (Years 1 to 6) & Best Start Assessments (Kinder 2023)
Tuesday, 31st January 2023-MAI (Years 1 to 6) & Best Start Assessments (Kinder 2023)
Wednesday, 1st February 2023-First day of Term 1 2023 (Years 1 to 6) & Best Start Assessments (Kinder 2023)
Thursday, 2nd February 2023-Best Start Assessments (Kinder 2023)
Friday, 3rd February 2023-Best Start Assessments (Kinder 2023)
Monday, 6th February 2023-1st day for Kinder 2023