Newsletter-Term 1-Week 2-Friday 11th February
Principals News...
Dear Families and Friends,
Welcome to the start of the 2022 school year at St Francis Xavier Primary School. I hope you enjoyed a wonderful summer break, despite the challenges of COVID-19. A very warm welcome to all members of our school community, particularly our new families and our Kindergarten students. It's been a delight to see the many happy and smiling faces of our students who are energised, excited and ready for learning!
We thank our parents and families for helping to keep us all safe by following the COVID-19 guidelines and for your cooperation with the Mathematics Assessment Interviews. We appreciate that this can be challenging; however, it provides invaluable information that teachers will use to support the learning and growth of your child/ren in Mathematics.
2022 Australia Day Ballina Shire Award Winners
A big congratulations to two ex-students from St Francis Xavier: Tyler Dogan and Eli Carr. Tyler was awarded A Sporting Achievement Award and Eli was awarded Young Citizen of the Year.
Tyler has shown outstanding self-motivation and perseverance to achieve his sporting goals and Eli is a quiet achiever who is passionate about supporting local organisations and charitable causes. Well done to both Tyler and Eli for their contributions and achievements!
Parent Social Media Reminder
It is quite common for parents to establish social media groups or pages to share information or connect with other parents in your child's class and school community. Please be reminded that it is not permitted to establish a social media presence using the school's name or logo without written permission from the Principal. Any permitted social media pages/groups/accounts must adhere to the schools and the Catholic Schools Office Diocesan Social Media Policies.
Parent Information Evening
At this stage, our Parent Information Evening will be placed on hold in response to current COVID-19 guidelines. Term overviews will be shared with parents early next week and will be a valuable source of information for your child's new class. Please don't hesitate to contact your child's class teacher if you have any questions or concerns.
It is our hope that the Parent-Student-Teacher conferences will occur later in Term 1 and these will be an opportunity to discuss learning goals for 2022. However, further information regarding these meetings will be shared with you when we are able to confirm their go-ahead. Thank you for your understanding.
Advance Notice
Our first Parent Forum meeting for 2022 will be held on Tuesday, 1st March from 5:30pm-6:30pm. The Parent Forum is a partnership between parents and the school and it is a valuable way to share ideas, views, concerns and make suggestions for improvement. In order to meet COVID-19 restrictions, please RSVP to Kristie Coster via email: kristie.coster@lism.catholic.edu.au. This will allow us to implement COVID safe planning for the meeting.
Take care and have a wonderful weekend.
Kristie Coster
Acting Principal
Assistant Principal Mission News...
I would like to welcome back all existing families and offer a warm welcome to our new families for Term 1, 2022. The students have had a wonderful start to the term and are all settling into their class routines. The new playground has been extremely popular, especially the giant space-net tower!
This Week's Gospel
Luke 5:1-11
The Gospel this week takes place by the Lake of Gennesaret. Jesus is standing on the lake's edge as a crowd gathers around him. To address the crowd Jesus climbs into Simon Peter's fishing boat, asks him to put it out a little, and then sits down and teaches the people.
Simon and his crew have been fishing all night with no luck and are taken back when Jesus then asks them to put out into deeper waters and lower their nets. As all good ancient fishermen know, you don't catch fish in the deeper water of Gennesaret for the fish prefer the warmer shallower waters. Simon, who had witnessed an earlier miracle of Jesus curing his mother-in-law, knows who Jesus is and obeys. The fishermen then proceed to catch so many fish that the nets begin to break.
Simon is astonished and afraid, he feels unworthy of this blessing when Jesus says to him, "Don't be afraid; henceforth you will be catching people." The men then left everything and followed Jesus.
The message we take away from this famous passage is that Jesus calls ordinary people to his mission and through Jesus, amazing things are possible. At school through our school values of Prayer, Education, Justice, Hospitality and Compassion, Jesus calls all of our staff and students to his mission.
A wonderful example of His mission last year would be the amazing work of our student council, who organised a Walkathon and raised over $10 000 to help the Ballina homeless. Or today when I noticed our senior students showing such caring compassion and hospitality to our new Kindergarten students by holding their hands and supporting them in the playground.
Upcoming Events
Year 6 leadership Induction Mass- Monday, 21st February at 9.30 am
(due to COVID-19 restrictions only 2 family members per senior student to attend)
2022 Sacramental Program
| | |
| --- | --- |
| Confirmation | Term 2 (9th June) |
| Reconciliation | Term 3 (TBA) |
| First Holy Communion | Term 4 (TBA) |
Regards and God Bless,
Matthew Ritchie
Assistant Principal Mission
Parish Mass Times
| | |
| --- | --- |
| SFX Ballina Parish (max 184 people) | Lennox Head Parish (max 70 people) |
| 6:00pm Saturday Vigil Mass | 5:00pm Saturday Vigil Mass |
| 9:00am Sunday | 7:30am Sunday |
| 11:00am Sunday | |
Parish Notice
St Francis Xavier Parish, Ballina
Website: www.sfxballina.org.au
Masks must be worn when attending Mass. There is no singing and the 2 square metre rule applies with in our two churches. QR codes are the preferred way of registering to attend our parish Masses. QR codes are located at the entrances of both Churches. For your convenience attendance sheets are provided upon arrival to manually leave your contact details when attending Mass.
Vaccinated and non-vaccinated can join together in places of worship for Mass, the wearing of masks is mandatory.
Please do not attend Mass if you are not feeling well.
Use hand sanitiser provided at entrance and exit doors.

Sit on crosses (X) allocated in the pews to comply with the required social distancing rules of 2 square metres (families can sit together).

Singing is not permitted by congregants (choir of no more than 10 allowed)

5 x weekend Masses and 4 x weekday Masses are celebrated each week in our parish.

Our churches are open for private prayer Monday to Friday, please sign the she

et provided when visiting or use the QR code.
Learning & Teaching News...
Play-Based Learning in Kindergarten
This week our school family welcomed our new Kindergarten students. They were very blessed to engage in play-based learning from Day 1. This approach supports their transition from preschool to Kindergarten by engaging in play. We are not just playing, we are talking, listening, reading, learning, writing, drawing, measuring, making, negotiating, building, performing, turn-taking, making friends, sharing, inviting, joining, celebrating, encouraging, dancing, digging, questioning, wondering, trying and laughing. The Early Years Learning Framework (EYLF) caters to children aged 0-8 years old and emphasises play-based learning. The EYLF describes play-based learning as a method in which children make sense of the world around them. They also use it to practice and grow social skills and actively participate with other people and objects. Play-based learning makes use of children's natural motivation to play. It includes both spontaneous play directed by the child and structured play. Structured play is also child-directed, but the teacher acts as a co-player with intentional teaching. As we implement this approach, with both indoor and outdoor play, our children are developing their sense of being, becoming, and belonging at St Francis Xavier. The students and teachers are having so much fun.
Learning in Year 1 to Year 6
It has been wonderful to welcome our students back to face-to-face learning across Years 1-6. I'm very blessed to be able to visit all of the classrooms and engage with the students in their learning. We thank our teachers for making this first week so special for their students as they spend time getting to know each other and their new routines. This builds a wonderful sense of belonging across each class in our school family.
Lisa Conte
Leader Pedagogy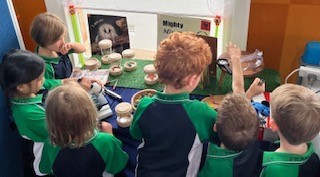 Sports News...
Millar McElroy
At the conclusion of last year, Millar McElroy attended the Ballina Seahorses Rugby Union Presentation where he received the Junior Player of the Year award.
Ballina Seahorse Rugby club chose Millar, out of all the players from age 6-16 because of his selfless attitude, dedication and teamwork skills. What a fantastic achievement Millar!!
Design Your Own Bat Competition Winner
In Term 4 of last year, the Far North Coast Junior Cricket Council invited students to participate in a "Design your own bat" competition. Well done to Taya Coates who won a limited edition Josh Phillipe bobblehead after she entered her bat design entitled "Let the ball fly". A special mention must also go to Emmie Nesbitt who also entered the competition with two bat designs.
St Francis Xavier Swimming Carnival
On Tuesday, 8th February this week St Francis Xavier held their annual Swimming Carnival at Ballina War Memorial Pool. Due to COVID, it was a refined program with only the Competitive Events going ahead. Overcast conditions welcomed our swimmers; however, the rain held off and by the conclusion of events the sun was shining. A big thank you to the parents who were able to assist with timekeeping. Your help was greatly appreciated. Congratulations to the winning house, Cole who finished on top with 392 points. The final standings were:
| | | |
| --- | --- | --- |
| 1st | Cole | 392 points |
| 2nd | Murphy | 238 points |
| 3rd | Power | 236 points |
| 4th | Doyle | 182 points |
Also a big thankyou to Miss Beecher, Mrs Turner and Mr Ritchie who assisted with the smooth running of the program.
Congratulations to the following Age Champions:
| | |
| --- | --- |
| Junior Boys Champion | Gali Amit |
| Junior Boys Runner-Up | Luke Dogan |
| Junior Girls Champion | Alysha Miller |
| Junior Girls Runner-Up | Isabel Hudson |
| Year 11 Boys Champion | Harley Ainsworth-Puglisi |
| Year 11 Boys Runner-Up | Callan Ross |
| 11 Years Girls Champion | Alexandra Dogan |
| 11 Years Girls Champion Runner-Up | Helena Druzynski |
| Senior Boys Champion | Lennox Molyneux |
| Senior Boys Runner-Up | Jye Miller |
| Senior Girls Champion | Mya Poptie |
| Senior Girls Runner-Up | Taya Coates |
Students who finished in the top three times across all heats were selected to attend the Richmond Zone Swimming Carnival @ Lismore Memorial Baths on Monday, 14th February.
Richmond Zone Summer Sports Trials
The postponed Richmond Zone Summer Sports Trials from 2021 were rescheduled to Thursday, 10th February at various venues across Lismore. St Francis Xavier has always been strong in Touch Football and, once again, a number of students were selected to compete at the Diocesan Summer Sports Trials. Congratulations to:
| | |
| --- | --- |
| Jett Haley | Ryan Waldock |
| Jack Keough | Aliyah Gerada |
| Zali Raudonikis | Erika Wisemantel |
| Lillian Bruncke | Maddison Mikaere |
Paddy Wilde
Sports Coorinator
Canteen News...
We Need Volunteers for our School Canteen
Tammy is looking for volunteers for the canteen. If you are able to spare a couple of hours, between 9am and 11:30, once a month please contact the school office on 66863370 or contact Tammy in the Canteen and just let her know what day suits you. Please note that to volunteer in the canteen you will need to be double vaccinated and upon signing into the school, the office staff will need to sight your COVID vaccination certificate.
Canteen Specials - Term 1
Week 3
Wednesday, 16th February

Pie & Sausage Roll Day

Pies & Sausage Rolls-$4.70

Party Pies & Party Sausage Rolls-$1.60

Week 4
Wednesday, 23rd February
Hotdog Day-$4.00
Week 5
Wednesday, 2nd March

Pizza Day-$3.00

Week 6
Wednesday, 9th March
Pasta Day-$5.00
Week 7
Wednesday, 16th March
Chicken Sub/Wrap Day-$4.90
Week 8
Wednesday, 23rd March

Pie & Sausage Roll Day

Pie & Sausage Rolls-$4.70

Party Pies & Party Sausage Rolls-$1.60

Week 9
Wednesday, 30th March
BLT Day-$4.90
Week 10
Wednesday, 6th April
Sausage Sizzle Day-$4.00
Sushi Special Day-Term 1
3.90 each Chicken, Tuna, Avocado or Vegetarian Sauce 20c each
| | |
| --- | --- |
| Week 3 | Tuesday, 15th February |
| Week 5 | Tuesday, 1st March |
| Week 7 | Tuesday, 15th March |
| Week 9 | Tuesday, 29th March |
Student Awards...
Term 1 - Week 2
| | | | |
| --- | --- | --- | --- |
| Samuel Goodlet | Polly Meany | Macey Buchan | Monty Zhou-Roberts |
| Remi Nathan-Costigan | Ruby Oliss | Mason Gibbs | Indiana Hughes |
| Punyata Bunprakhom | Dimity Jackson | Kai Colegate | Vinnie Girardi Paciello |
| Olivia O'Brien | Tyler Smith | Leo Marboeuf | Tate Creighton |
| Sienna Suffolk | Aurelia Houghton | Billy Flick | Ruby Hernage |
| Javier Houghton | Domenic Suffolk | Cody Flatley | Hayley Geddes |
| Erynn Ralph | Tyler Starkey | Jessica Aslin | Maverix Thomas |
| Flynn McKay | Lilla Morley | | |
Back to School Safety Information...
Drop-Off and Pick-Up by Car
Make sure your children are in appropriate child car seats that are fitted and used correctly. Stick to the 40km/h speed limit in a school zone as children are about and can be unpredictable. Look out for buses pulling out – watch for wig-wag lights.
Always park and turn legally around schools and avoid dangerous manoeuvres like U-turns and three-point turns.
Always give way to pedestrians, especially when entering and leaving driveways.
Drop the kids off and pick them up on the school side of the road in your school's designated drop-off and pick-up area. Calling out to them from across the road is dangerous because they may run to you without checking traffic.
It's safest for the kids to get out of the car on the kerb side of the road to be away from passing traffic.
Walking together to and from school
Plan your trip to school so you are using pedestrian crossing areas where possible.
Always hold your child's hand up until the age of eight. Young children need your help to spot danger like vehicles coming out of driveways. They can also be easily distracted and wander into traffic.
Drop off and pick up your child near the school gate and avoid calling them from across the road. Talk to your children about Stop, Look, Listen and Think every time they cross the road:
Stop one step back from the kerb
Look continuously both ways
Listen for the sounds of approaching traffic
Think whether it is safe to cross and keep checking until safely across
Your child's safety depends on you. Young children can learn these safe pedestrian habits from you and use them when they are old enough to travel alone. Information from NSW Transport.
Please be mindful of the residences and their driveways that border on our school grounds. Please DO NOT park across our neighbours' driveways at drop off and pick up times.
We also remind parents NOT to double park when dropping off your child/ren to school.
Happy Birthday...
4th February to 17th February 2022
Wishing all our students a wonderful birthday!!
| | | |
| --- | --- | --- |
| Matilda McDermott | Polly Meany | Tyler Bell |
| Noah Clarson | Yuuna Yagi | Brock Flatley |
| Vance Gisen | Max Sharpe | Georgia Rule |
| Benjamin Girardi Paciello | Ryder Price | Jarrah McGauran |
School Fees 2022-Term 1...
Term 1 fees will be available via Compass next week. Please note you will need to make sure you keep up to date with your fees via the Compass App. The preferred method of payment for 2022 will be Compass Pay, BPay, Eftpos or Cash at the School Office. Please note that all Statements are emailed from our Head Office via the Compass App at the end of each month.

Finding your School Fees on Compass
Step by Step Instructions:
Click on your compass app, home page will appear
Click on the 3 lines, top left hand corner
Click on School Fees
Fees to be paid will appear
Follow the prompts to pay for your account
Checking your School Fee Account on Compass
Step by Step Instructions:
Click on your compass app, home page will appear
Click on the 3 lines, top left hand corner
Click on open in browser
Desktop format will appear
Click on your initials at the top right hand corner of the screen
Parent profile will appear
Click on the billing tab
This will bring up your account, you will be able to see what is owing and the payments you have made.
You can also click on the Transaction Report (PDF) tab to see your transactions - It will tell you this may take up to 10 minutes to generate, it won't take that long. Click ok to generate your report
File Downloaded will appear, click open – your transaction history will appear.
Parent Assembly News...
Community News...
Ballina Netball
Ballina Netball LJ Hooker Winter competition sign on is open until 21st February 2022. Ballina Netball looks forward to welcoming back new and returning members. Age groups include 5 years to senior age. Boys and girls are encouraged to register with one of Ballina Netballs 4 affiliated clubs:
*Headlands Netball Club
*Lennox Head Netball Club
*Coastal Cruisers Netball Club
*All Saints Netball Club
Our outdoor winter competition is played on Saturdays at the courts on Owen Street Ballina.
Ballina Indoor Netball competition is played for the duration of each school term at the Ballina Indoor Sports Centre (BISC) Cherry Street Ballina and has the following-walking, social and competative. For more information email info@ballinanetball.com.au.
Ballina Netball Event- Neon Netfit