Newsletter-Term 2-Week 4-Friday 20th May 2022
Principal's News...
Dear Parents,
It is with great sadness that I write with tragic news that a member of the Xavier Catholic College community has taken their life. We ask that you keep the student's family and friends in your hearts and prayers. Your child may have no awareness of this incident, however, if you feel there is a need to have a conversation with your child, we recommend using these resources to support you and your child with this conversation.
Kids Helpline - Helping kids identify and express feelings
Conversations Matter - When telling a child about suicide.
The NSW Parent Line is a free telephone counselling and support service for parents. They can assist you with how to have conversation with your child and answer any questions you have. The phone number is 1300 130 052.
Please feel free to contact your child's teacher if you have any concerns about your child. Contacting the school is an important way of ensuring you receive consistent and accurate information and for us to be aware of all parent concerns.
It was great to see such a strong attendance at our parent information night on Wednesday. Mrs Janita Thompson and Mrs Jo Kelly from the Catholic Schools Office led us through an interactive evening exploring how we might be feeling after experiencing recent challenges and traumatic experiences, and how we can work through this. Our school counsellor, Mrs Lyn O'Neill then outlined a new program available to our students called Stormbirds. (Please see the information and enrolment details at the back of the newsletter.) This program will complement the Seasons for Growth program that we will run later in Term 3 to support students in working through grief and loss. I thank Janita, Jo and Lyn for facilitating such a wonderful night for our community.
Next Tuesday night we will welcome our Confirmation candidates and their families to our second information evening. Last week's session was well attended and the family participation was fantastic. I look forward to another great night next week. Please remember to keep these children in your prayers as they prepare themselves for the reception of the blessed sacrament on June 9th.
Peace in Christ
Dan Gubby
School Calendar-Term 2...
| | | |
| --- | --- | --- |
| Week 5 | Tuesday, 24 May | Diocesan Cross Country-Grafton |
| | Friday, 27th May | Assembly-Year 2 Prayer |
| Week 6 | Monday, 30th May | Kinder 2023 Interviews |
| | Tuesday, 31st May | Back-Up Diocesan Cross Country |
| | | Kinder 2023 Interviews |
| | Wednesday, 1st June | Kinder 2023 Interviews |
| | Thursday, 2nd June | Whole School Mass-2:30pm to 3:15pm |
| | | Kinder 2023 Interviews |
| | Friday, 3rd June | Kinder 2023 Interviews |
| | | Assembly-Year 1 Prayer |
| Week 7 | Friday, 10th June | Assembly-Kinder Prayer |
| Week 8 | Friday, 17th June | Assembly-Year 6 Prayer |
| Week 9 | Wednesday, 22nd June | Musical at Xavier Catholic College |
| | Friday, 24th June | Assembly-Year 5 Prayer |
| Week 10 | Friday, 1st July | Last Day of Term |
| | | Assembly-Year 4 Prayer |
Assistant Principal Mission News...
Laudato Si' Week 2022, to be held May 22-29, will mark the seventh anniversary of Pope Francis' landmark encyclical on creation care. This global celebration will unite Catholics to listen and respond together to the cry of creation, rejoice in the progress we have made in bringing Laudato Si' to life, and intensify our efforts through the dynamic Laudato Si' Action Platform, walking the "Synodal" path.
Laudato Si is a wonderfully practical encyclical that lends itself to the idea that we are all responsible for our one common home. God wants us to care for the earth so that future generations can enjoy the benefits that we have today.
The students at St Francis Xavier Primary learn about caring for creation in their Religious Education lessons, through our School Justice Value and by participating in the Gardening Club. In Year 6, students engage in a project-based learning unit where they explore Pope Francis' Laudato Si and experience a real-life opportunity to work with the local Ballina Landcare.
Matthew Ritchie
Assistant Principal Mission
Parish News...
Parish Information
Revised NSW Government Restrictions for Places of Worship
Hand sanitiser is provided at entrances to our Churches

Masks are not mandatory, personal choice can be made if you prefer to wear a mask

Receival of Holy Communion in the hand only

Singing is allowed

Social distancing may be maintained if practical

Density limits are not mandatory

If unwell please stay home until you feel well again
Parish Mass Times
| | |
| --- | --- |
| SFX Parish | Lennox Head Parish |
| 6pm Saturday Vigil Mass | 5pm Saturday Vigil Mass |
| 9am Sunday | 7.30am Sunday |
| 11am Sunday | |
Learning & Teaching News...
YEAR 2 SCIENCE & TECHNOLOGY
In Year 2 Science & Technology the students have been involved in a design challenge:
PROBLEM:
Flooding has widened the Richmond River and the local civil engineer needs our help to design and make a suspension bridge to help people get to the far side of an extremely wide river.
TASK:
You will design a suspension bridge and use toy cars to see if your bridge passes the test.
CONDITIONS:
The bridge must be free-standing. It cannot be attached to the tables.
The bridge must be completed within the timeframe set by the teacher.
You can change your plan - redesign and use different materials.
SUPER CHALLENGE:
Can your bridge support more than one toy car?
Test the strength of your bridge to see how many toy cars it can support at the same time.
Year 2 Learning Gallery
YEAR 5 READING
In Year 5 the students were using their prior knowledge and understanding of sensory language in the text to visualise the scene being described below.
After they listened to the passage, they drew and coloured a representation of the image. This is called sketch to stretch, it is a reading comprehension strategy where students visualise a passage of text and then interpret it through drawing. The strategy encourages creative thinking, welcomes diverse perspectives, and fosters discussion of various interpretations. Check out some of their responses below:
YEAR 4 MATHEMATICS
In Mathematics, our Year 4 students' learning intention has been to use appropriate terminology to manipulate, identify and sketch two-dimensional shapes, including special quadrilaterals, and describe their features. To be successful students need to be able to demonstrate the success criteria:
Compare and describe 2D shapes.
Combine common 2D shapes, including special quadrilaterals, to form other common shapes or designs.
Their rich task was:
I joined two 2D shapes to make a new shape.
What might my 2D shape be called and what might it look like?
What are its properties?
Check out their responses below: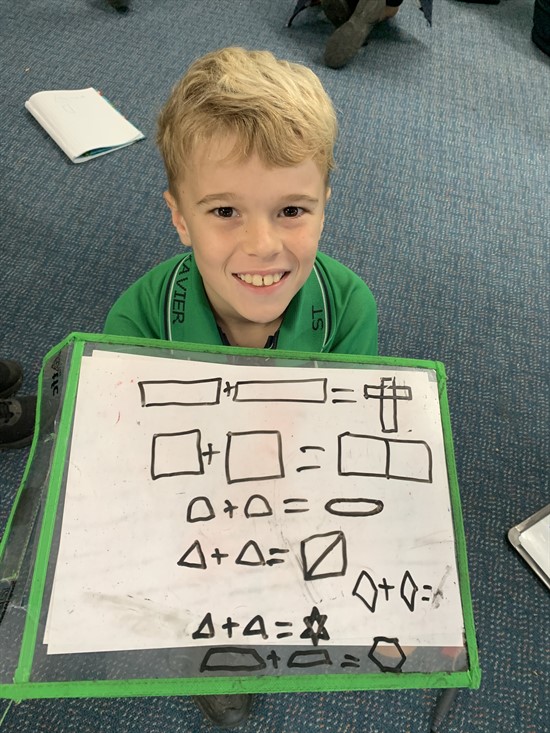 YEAR 1 WRITING
In Year 1 the students have been working on upgrading or bumping up their vocabulary when writing. The students created posters that could assist them to upgrade some basic adjectives and verbs when writing. They came up with some amazing alternatives for said, nice, big, happy, went etc. Check out their responses. It was wonderful to witness them then using these posters to assist them in future writing lessons.
Lisa Conte
Leader of Pedagogy
Canteen News...
We Need Volunteers for our School Canteen
Tammy is looking for volunteers for the canteen. If you are able to spare a couple of hours, between 9am and 11:30, once a month please contact the school office on 66863370 or contact Tammy in the canteen and let her know what day suits you. Please note: to volunteer in the canteen, you will need to be double vaccinated and upon signing into the school, the office staff will need to sight your COVID vaccination certificate.
Canteen Roster-Week 5
Monday, 23rd May to Friday, 27th May
| | |
| --- | --- |
| Monday, 23rd May | HELP NEEDED |
| Tuesday, 24th May | Hayley Piercy, HELP NEEDED |
| Wednesday, 25th May | Aimee Mattinson, HELP NEEDED |
| Thursday, 26th May | Christiana Whitty, HELP NEEDED |
| Friday, 27th May | Kristie Pettit, HELP NEEDED |
PIZZA DAY
WEDNESDAY, 25th MAY 2022
It's Pizza Day (Ham and Pineapple or Cheese and Bacon) on Wednesday, 25th May. Please order via the QKR App no later than Tuesday, 24th May. Cost: $3.00.
Please note Canteen will not be open for any other food on Wednesday, 25th May
Sushi Day Special-Term 2
$3.90 each - Chicken, Tuna, Avocado or Vegetarian
| | |
| --- | --- |
| Week 5 | Tuesday, 24th May |
| Week 7 | Tuesday, 7th June |
| Week 9 | Tuesday, 21st June |
Sports News...
Richmond Zone Cross Country
On Wednesday, 18th May of this week the annual Richmond Zone Cross Country was held at Hepburn Park, Goonellabah. After venue and date changes to the event it was great to see it finally go ahead. Warm, humid weather met our 46 runners on the heavy, damp track. All of the students who ran are to be commended for their performance in the muggy conditions, finishing 2nd overall behind Holy Family, who have dominated this Carnival over the last decade.The students also need to be congratulated for their behaviour which was outstanding over the duration of the day.
Congratulations to the following fifteen runners who finished in the top eight and qualified for the Diocesan Cross Country next Tuesday, 24th May at Grafton Racecourse. Equally impressive was the number of runners who were shadows for any late withdrawals as they finished in the top 10.
The 8 Years Age Group does not proceed to the next level.
8 Years Boys
2nd-Braxton Whitton
3rd-Teo Amit
9 Years Boys
1st-Luke Dogan (Age Champion)
5th-Fletcher Bernardes-Skelton
7th-Oscar Donaldson
8th-Mason McMahon
9 Years Girls
3rd-London McGregor
4th-Jessica Aslin
10 Years Boys
10 Years Girls
5th-Isabel Hudson
8th-Liahn Chan-Gale
11 Years Boys
4th-Jack Keough
5th-Max Sharpe
11 Years Girls
1st-Alexandra Dogan (Age Champion)
12/13 Years Boys
12/13 Years Girls
2nd-Erika Wisemantel
5th-Freya Cowan
Student Awards...
Term 2-Week 4
Congratulations to all our award recipients for week 4
| | | |
| --- | --- | --- |
| Tate Creighton | Yindianna Pitt | Tyler Eggleton |
| Poppy Sellen | Ethan Kealy | Oscar Booy |
| Grace Rohn | Stella McOmish | Koah Matheson |
| Billy Thomas | Kace Peachey | Honor Hodges |
| Jarrah McGauran | Cassie Llewellyn | George Kolokithas |
| Mason McMahon | India Bianchi | Benjie Love |
| Lucas O'Brien | Evie Price | Matilda McDermott |
| Quinn Campbell | Brock Flatley | Noah Clarson |
| Saoirse Lockwood | Jayden King | Jye Miller |
| Bella-Jaye Soelkner | | |
Happy Birthday News...
20th May -26th May
Wishing all our students a wonderful birthday!!
| | |
| --- | --- |
| Isabella Iverson | Damien Hernage |
| Lachlan Colegate | Kai Colegate |
| Marlee Atkinson | |
Kinder 2023 Enrolment News...
Enrolment packs are available from the school office or on the school website. If you need more information, please contact us on: 66863370 or visit www.balplism.catholic.edu.au
Wellbeing News...